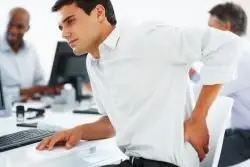 Because our primary goal is to assist the body in naturally healing itself, our Edmonds chiropractor incorporates manual adjustments and complementary services such as therapeutic massage sessions. These services control pain without strong prescription pain killers that mask the pain, but don't help the body recover.

A review of state workers' compensation claims reveals the workplace to be a dangerous place. Injuries on the job may impair your ability to work and enjoy a healthy off-the-clock lifestyle. If you've been involved in an accident on the job, seek medical attention as soon as possible, even if you don't see any outward signs of injury. Receiving prompt, appropriate care ensures you'll be able to recover and return to normal activities sooner.
Visiting our chiropractor in Edmonds for injury assessment and treatment is appropriate for the following common conditions associated with personal and work related injuries:
Back and neck injuries (strains, sprains, herniated discs, joint dysfunction)
Repetitive motion injuries (Carpel tunnel syndrome, frozen shoulder, muscle/tendon strains, neuropathy)
Overexertion (injuries cause by lifting, pushing, holding, carrying, throwing or pulling)
Non-fracture damage to soft tissues and joints associated with a fall on wet/slippery surfaces
Accidental impact (running to a stationary object like a wall or furniture)
Transportation Incident (automobile accident injuries like whiplash and impact injuries)
Body Reaction injuries (avoiding a near fall, sudden jolt)
Stress and muscle tendon headaches
After the Diagnosis: Manipulation and Massage
Our chiropractor in Edmonds offers a holistic service plan for treating the above conditions and many other personal injuries. Each patient receives a treatment protocol customized for the overall health and fitness level, and current physical, emotional or mental challenges. The recovery plan aims to get your body functioning normally without pain and help you develop health-maintenance strategies so you can avoid similar injuries as you return to normal activities.
While spinal adjustments free compressed nerves that facilitate the natural healing process which provide better neural communication, massage therapy enables the body by improving blood circulation, boosting the immune system and relaxing tense muscles thus reducing localized inflammation. The combination gives your body boost to recover from injuries faster, and with less pain.
Your treatment may include a combination of corrective spinal adjustments, prescribed exercises to do in the office and at home, therapeutic massage and nutritional/lifestyle counseling. Dr. Marshall-Inman may also provide educational materials to help you understand how posture and spine health impact health and wellness throughout your lifespan after recovery.
Working with Optimal Health Chiropractic & Massage
Our ultimate goal is to help our patients achieve renewed strength and vitality after an accident. Visit our payment options page for information about insurance and budget-friendly plans designed to help you get treatment based on your financial circumstances.
Protect your health. We encourage you to contact our office to schedule a full post-injury examination with our chiropractor in Edmonds as soon as possible. You don't have to recover in pain, we can help.
---
Work Injury FAQs from Our Edmonds Chiropractor
Even in the safest working conditions, you can still be injured on the job. Accidents, wear and tear and other problems can occur that end up causing you pain that affects your job performance and other aspects of your life. When you have a work injury, chiropractic care can help improve your situation. Our Edmonds chiropractor offers the following information to help you learn more about work injuries and chiropractic care.
What Kinds of Work Injuries Are Common?
Work injuries come in many forms, although some are more likely to happen than others. Serious and potentially fatal injuries might be rare, but slips, falls, repetitive stress injuries and back injuries are much more common. Other kinds of injuries that are common in the workplace include sprains and other soft tissue injuries, neck injuries and injuries from doing the heavy lifting. Even ergonomic problems, such as the way you sit at your desk, can lead to work injuries.
How Does Chiropractic Care Help Work Injuries?
Chiropractic care involves adjusting your spine in order to ensure that it is properly aligned. The pain you experience from a work injury is linked to your body's nervous system. Taking the pressure off of nerves in the injured area, which is what happens during chiropractic adjustments, can alleviate this pain. Chiropractic care also allows nutrients to get to injured areas easily, which can promote natural healing.
What Are the Benefits of Chiropractic Care for Work Injuries?
Chiropractic care offers a way for you to experience pain relief without having to depend on pain relievers, which can cause side effects or even addiction. Having chiropractic care done can also help lower your risk of dealing with chronic pain or needing surgery later on. This type of care focuses on easing pain and correcting the root of your problem for effective, long-term relief.
Contact Our Chiropractor in Edmonds
If you have been injured at work, please contact Optimal Health Chiropractic and Massage to schedule an appointment. Our chiropractor in Edmonds can help you find relief from chronic pain that occurs due to a work-related injury.