Herniated Disc Treatment at Optimal Health Chiropractic and Massage, Your Edmonds WA Chiropractor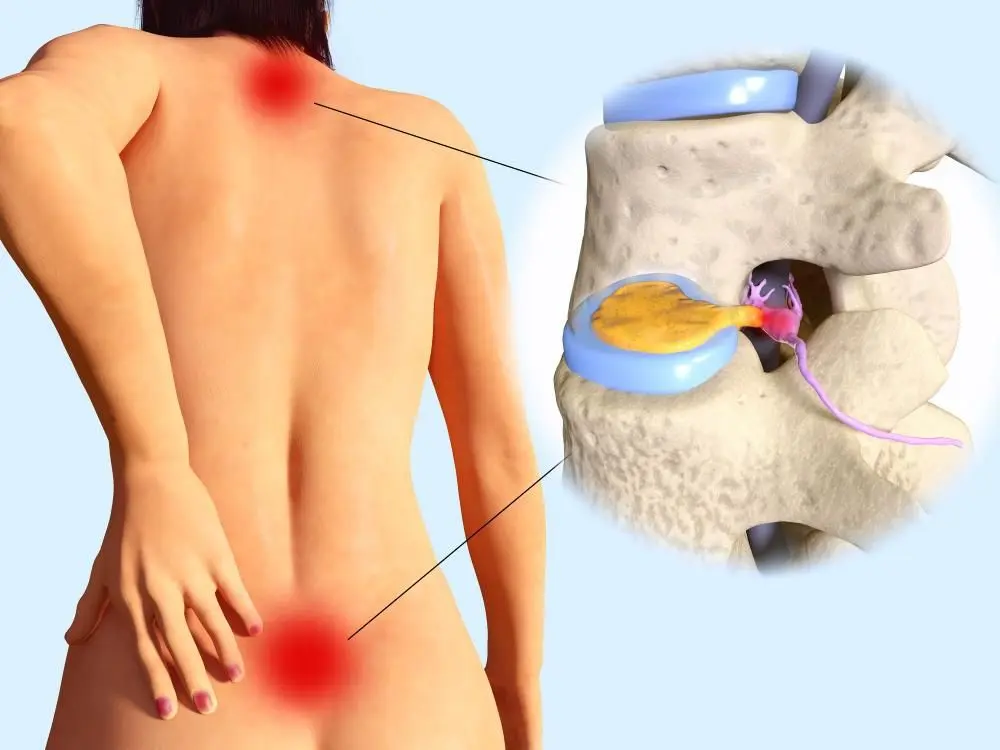 For many, back pain, neck pain, and mobility concerns occur as a result of a herniated disc. You may or may not know what's causing your pain, but you are ready to find a solution. At Optimal Health Chiropractic and Massage, Dr. Daryll Marshall-Inman and the team will help you find the most effective treatment option available to reduce your pain and restore your quality of life.
What Is a Herniated Disc?
The first step is to understand your condition. A herniated disc occurs when one of the cushions, or discs, located between the spinal column bones (known as vertebrae) becomes damaged. When this happens, they cannot provide the support you need. This disc works to reduce the amount of friction occurring between the bones as they move. It has a softer center and a tougher exterior. Herniation occurs when some of the softer material inside pushes through to the outer wall and causes a tear in that exterior wall.
When this happens, it allows for the material to come into contact with nerves nearby. This can irritate the nerves and cause inflammation, numbness, or weakness. The pain you feel is brought on by the substance irritating the nerve endings in that area.
What Are Common Symptoms of a Herniated Disc?
Herniated discs can occur in various areas of the spine. The pain you feel tends to be in relation to the area where the herniation is occurring but can spread outward from that point. Common symptoms of a herniated disc include:
Leg pain, especially when the herniated disc is in the lower back. The pain is likely to be strong in the buttocks as well as the calf and thigh. Sometimes, it can extend to the foot.
Arm pain, especially when the disc is in the upper portion of the spinal column. This pain tends to include a shooting pain. It will worsen when you move abruptly such as when you sneeze or a cough.
Most people have some numbness or a tingling sensation in the body where the nerve is.
Muscles in the hands, legs, and arms can also feel weak. It may make it hard to hold objects, or you may drop them suddenly.
If you have any of these symptoms of a herniated disc, seek out care right away. As a chiropractic office, we recommend getting treatment as soon as possible.
How Your Chiropractor Provides Herniated Disc Treatment
The most common herniated disc treatment from a traditional doctor will be to mask the pain with medications and, when it worsens, to recommend surgery. That's not necessary in most cases. Our chiropractor offers solutions to help you feel better in a holistic manner. We'll customize a treatment plan based on the location and severity of the condition you have. It may include:
Chiropractic Adjustments: By manipulating the spine using gentle force, we can remove that connection between the nerve and the disc. Additionally, herniated discs caused by compression on the spinal column or misalignment will benefit from this type of pain and pressure relief.
Acupuncture: In some cases, acupuncture can be used to help stimulate healing in the impacted area. It is very good at reducing inflammation, which can occur in the impacted area.
Massage Therapy: Many of our clients benefit from massage therapy. This is more than just a massage. Rather, we use it to stimulate the body's natural ability to heal and to reduce the inflammation present. It provides pain relief but also helps in reducing the severity of the condition.
Chiropractic treatment for a herniated disc should be ongoing. You'll find this treatment can help you restore function to your body and reduce the pain you feel without any need for surgery.
Schedule a Consultation for Herniated Disc Relief from Your Edmonds WA Chiropractor
At Optimal Health Chiropractic & Massage Clinic, our team is here to help you feel better. Herniated disc relief is available to you through our advanced treatment options and cutting-edge resources. We welcome you to visit our offices and your Edmonds WA chiropractor for an appointment. Call (425) 361-1839.