Massage Therapy in Edmonds WA
---

At Optimal Health Chiropractic and Massage Clinic, we offer massage therapy for mental and physical wellness. Massage can be a wonderful complement to chiropractic care as well as a great way to relax, rejuvenate, and heal your body. Please read on for more information about the massage services we offer in Edmonds.

The Benefits of Massage Therapy in Edmonds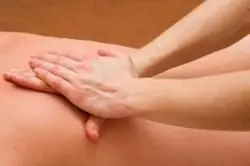 Massage therapy has a number of general benefits and can also help specific health conditions. For musculoskeletal conditions, massage calms muscle spasms that contribute to pain while soothing away muscle tension and draining toxins from tissue. The lymphatic system and nervous system are restored in this process. Since massage does not require you to use medication, it can be a successful complement to traditional or natural care methods.
Massage is effective at relieving many different types of pain, both acute and chronic. We recommend massage for treating the following conditions:
Auto Accident Injuries - Auto accidents put a great deal of pressure on your bones, muscles, and ligaments. This can cause spinal misalignment, muscle sprains and strains, and other injuries. Let our massage therapists help you heal from the physical, mental, and emotional pain that often result from car accidents.
Back Pain - Many of our patients suffer from chronic or acute upper, mid or lower back pain. That's why we specialize in massage therapy to bring relief from those suffering from all types of conditions/injuries associated with back pain, including sciatica, herniated disc, muscle strain, poor posture and more.
Arthritis - If you suffer from arthritis, then you know how debilitating the chronic pain it causes can be. We invite you to reclaim your health and wellness with a deep tissue massage from our staff. Our massage will increase blood flow to affected areas, decrease inflammation, and activate your body's natural healing system. Deep massage drains lactic acid buildup in afflicted tissue, so you will feel less pain. Use massage as a complement to your prescription medication or as a replacement for arthritis drugs.
Sports Injury - We are able to offer sports massage, which helps athletes of all levels perform at the top of their game. Our sports massage therapists can also address injuries, using special techniques to break up scar tissue and restore mobility to injured muscles. As a result, you can return to the sport you love and effectively treat pain.
Headaches - Muscle tension and neck spasms contribute to migraines and tension headaches. Both chiropractic adjustments and gentle massage can unwind knots, loosen muscle fascia, and extend neck mobility and flexibility. As you feel less tension in your neck, you will begin to experience fewer headaches and migraines. If you are ready to find relief from headaches and migraines without resorting to medication, we can help.
Fibromyalgia - Pain and fatigue from fibromyalgia can be debilitating to its sufferers. Massage therapy can soothe physical pain, promote nervous system healing, and increase energy levels and sleep quality in fibromyalgia sufferers. Massage complements chiropractic adjustments, which realigns the spine to promote central nervous system health. Together, these two treatment methods can bring great relief.
Get Holistic, Drug-Free Pain Relief from Our Edmonds Massage Chiropractor Today!
If you're looking for pristine chiropractic care to work alongside your massage therapy treatments then look no further. Our team at Optimal Health Chiropractic and Massage Clinic are here to provide you with the care you need to feel happier and healthier today!
For more information about massage therapy, call our Edmonds office today at (425) 361-1839!